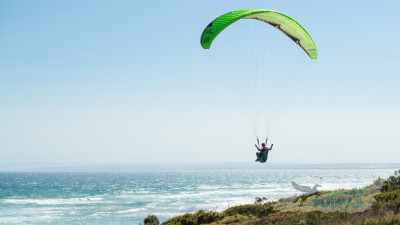 Paragliding in Kemer from Tahtali mountain - It is not necessary to have wings in order to soar in the sky among the clouds, you just need to decide on paragliding in Kemer. The resort town is located in the arms of the Mediterranean Sea and the Taurus mountain range. In Olympos National Park, Mount Tahtali rises majestically with a height of 2365 meters. Its top offers fantastic views of the entire southern coast of Turkey, and every year it attracts more and more people who want to make a parachute jump in Kemer. Those wishing to plunge into the world of extreme recreation should know that the altitude of 2300 meters is considered the highest in Europe for paragliding, in addition, Mount Tahtali has a rather gentle slope, which is very convenient when taking a run.
Tahtali has a fairly gentle descent, which is very convenient when taking off. Paragliding in Kemer is carried out exclusively by a duet with an experienced pilot. This is a safe entertainment, in which from the run at the top to landing on the beach, the instructor guides the whole process, the passenger, having relaxed for 25-40 minutes, can calmly enjoy the mountains, forests and the sea passing by. Tourists who are interested in a parachute jump in Kemer are provided with a transfer from the hotel to the foot of the mountain, then on the funicular they rise to the desired height to the site, where they will listen to safety instructions. Due to unfavorable weather conditions, the paragliding flight in Kemer will be postponed to another day.
Paragliding in Kemer is an activity available to almost everyone, however, there are some restrictions. People with health problems in the heart, respiratory tract and central nervous system are advised to abstain. Height should not exceed 2 meters. The maximum weight for participation for men is up to 110 kg, for women up to 90 kg. Children are admitted upon reaching the age of 9. It should also be noted that for safety reasons, passengers are prohibited from taking mobile phones, video and cameras with them. The shooting is carried out by the instructor and, if desired, all the material can be purchased after landing.