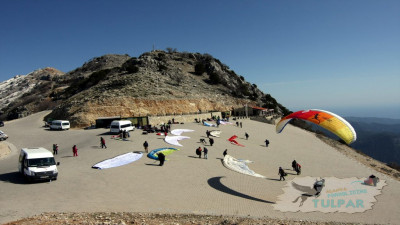 Paragliding in Kemer is one of the safest extreme entertainment that anyone can indulge in on vacation. Thrills, adrenaline, euphoria and self-esteem from overcoming yourself and your fear can diversify any everyday life. Paragliding is an air sport, the little brother of parachute jumping, but smooth gliding through the air comes from the mountain. You just need to wait for a favorable wind, scatter, and then the law of aerodynamics comes into force.
For those for whom the height matters and it seems that if it is less, then it is not so scary, for a start, you can go to Adrasan Bay. Here, from the mountain of the same name, novice extreme lovers make a parachute jump in Kemer from a height of 1000 meters, from where a view of the picturesque bay and the azure sea opens. The distance from the city to the village is 50 km, or an hour's drive on a comfortable bus. Tourists climb to the top in jeeps, simultaneously admiring the opening landscapes. Paragliding in Kemer is carried out only in tandem with an instructor, the tourist acts as a passenger and the only thing that is required of him is & ndash; listen carefully to an experienced partner and try to run 5 - 6 meters toe-to-toe with the instructor.
There are no special training or requirements for the implementation of a parachute jump in Kemer. Considering that the air temperature at the top of the mountain will be much lower than below, and the sun is shining brighter, it is recommended to take a windbreaker and sunglasses with you, shoes should be tightly fixed on the leg, or be closed. According to safety precautions during paragliding in Kemer, a tourist should not have anything to do with anything, the pilot takes pictures of the flight and a disc with recordings can be purchased after landing.
Despite the insurance and guaranteed safety, pregnant women and people with heart, lung and nervous system problems should refrain from such a trip. Children over 9 years old are allowed to participate.