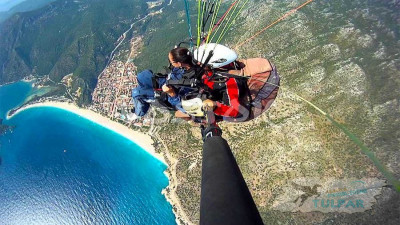 Paragliding in Fethiye Turkey Nothing attracts a person like height. Soar in the sky, feeling lightness and weightlessness at the same time admiring the opening views all this can be felt by deciding to paragliding in Fethiye. Perhaps the fear of heights is the most common phobia, but despite this, thousands of people come here to overcome their fear and indecision and, possibly, join those for whom extreme has become an integral part of life.
Paragliding in Fethiye is possible in the village of Oludeniz. Here, almost at the very shore, Mount Babadag is located, the height of the main peak, which is 1969 meters. But not only this is attractive to athletes extreme lovers around the world. From April to October, the most favorable weather conditions for safe skydiving in Fethiye, the mountain itself is equipped with platforms, observation and flight, a medical center, a weather station, as well as a cafe.
There are three launch sites and most often tourists make a parachute jump in Fethiye from the first, lowest point, at an altitude of 1650 meters. The flight takes place towards the sea, this is a great opportunity to admire from a bird's eye view the beautiful bay and its famous Blue Lagoon. The highest launch pad is located almost at the peak of the mountain, at an altitude of 1960 meters and the start from it is carried out towards the valley, comfortably located between the two mountains.
Paragliding in Fethiye is carried out in tandem with an experienced instructor, where during the 40 minutes of the flight the tourist acts as a passenger, and the choice of the launch pad, paragliding control and even shooting lies entirely with the pilot. This rule applies to everyone, even an adult, even a child, the minimum age of which must be 10 years. There are no special requirements and preparations. When choosing clothes, you need to prioritize convenience: sweatpants, shorts, windbreaker; shoes should fit snugly on the foot.
Despite all the safety and almost no load on the human body, paragliding in Fethiye is still an extreme entertainment with a large release of adrenaline into the bloodstream, so it is not recommended to take part in it for people with problems of the cardiovascular and central nervous system, locomotor system, as well as pregnant women.
People who have problems with the vestibular apparatus are not recommended to eat or drink a few hours before the flight, and you can also take special medications.