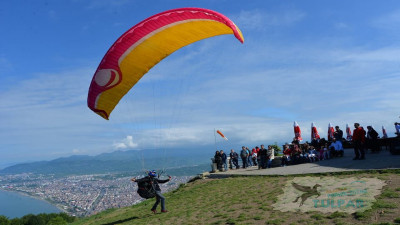 Paragliding in Bodrum attracts rapturous glances and arouses an irresistible desire to experience personally the sensations of flight and wings behind your back. But, succumbing to fear, not everything is solved.
Is it really scary?
Paragliding is one of the easiest and cheapest ways to fly in the clouds. Tourists make a parachute jump in Bodrum in tandem with an experienced pilot who fully controls and steers the wing, and the passenger can comfortably sit on a chair suspension to enjoy the sky and the dizzying views that open to him. A reliable system of belts and fastenings is a guarantee of safety.
Where to try paragliding in Bodrum?
To do this, you will have to cover a distance of 240 km. and visit the village of Oludeniz. The huge mountain Babadag, located 7 km from the coastal zone, attracts paragliders from all over the world like a magnet. For the convenience of athletes, there are 3 launch pads at different heights and for different wind directions; observation decks, a meteorological station, a medical center and a cafe, for a comfortable stay and waiting for your turn.
After arriving at the site, tourists undergo a brief briefing on safety and paragliding behavior, get acquainted with their mentor. And now just a couple of meters of run, jump and flight itself. The paragliding route in Bodrum lies past the Valley of the Butterflies, Saklikent Canyon, Blue Lagoon. In general, it will take up to 40 minutes to fly, landing on Oludeniz beach.
What to take with you when planning a parachute jump in Bodrum?
Being at an altitude of 1400 meters, there is a significant temperature drop towards minus and an increased wind, so a windbreaker or a warm jumper will not be superfluous, as well as protection from the sun and drinking water.
Paragliding in Bodrum, who suits?
This kind of entertainment is allowed for children from 10 years old. Pregnancy, any disorders with the musculoskeletal system, the cardiovascular system and the central nervous system are considered a contraindication, as well as the weight passing the 110 kg mark. After landing on the beach, you can view and purchase photos and videos made by the instructor. Photos from the flight will remind you of a bold and interesting vacation for a long time.