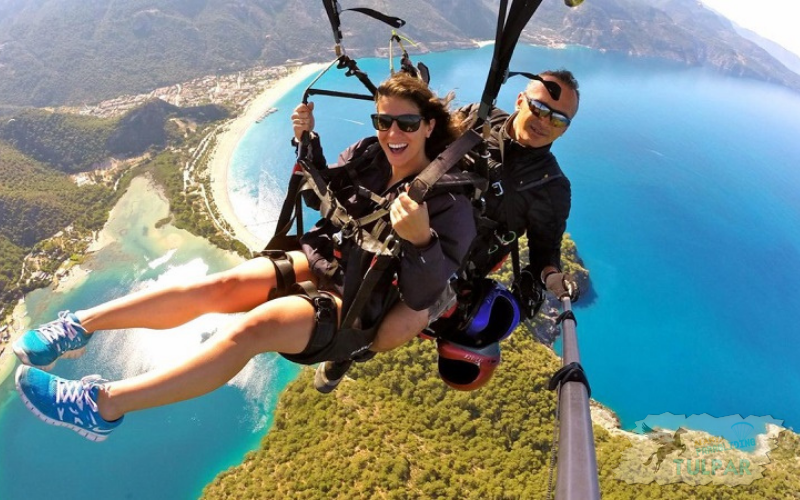 2021-07-26 05:26:35
Tulpar Paragliding
In whatever resort city in Turkey you are resting, there is a mountain not far from you where you can fly with a paraglider. For example, if you are spending your vacation in Antalya, Alanya, or Side, then the closest to you will be Mount Yassi or Adrasan. These mountains are part of the large Taurus mountain range. Yassi has convenient launch sites at an altitude of 500 and 800 meters. Landing point at the popular Cleopatra Beach. The altitude is relatively low, but you will fully experience the positive emotions from flying over the Mediterranean coast. From Adrasan they fly from a height of 1000 meters and land on the beach of the same name. The views here are simply gorgeous.
Vacationers in Kemer and Belek will be the closest to paragliding from Mount Tahtali. The height of the mountain is impressive, 2365 meters. But, the equipped start sites are at different levels, depending on which altitude you choose. A stunning flight against the backdrop of majestic mountains and coastline will be remembered for a lifetime. For paragliding from these cities, you can also choose Mount Adrasan, there will be no less impressions.
Guests of Fethiye, Bodrum, Marmaris, Kusadasi had a chance to paraglide from the legendary Babadag mountain - the international center of paragliding in Turkey. Professionals and amateurs of such flights come here every year to compete, exchange experiences and get new vivid impressions. Babadag is located next to the Fethiye resort.From the top of 1700 meters, an incredible view of Oludeniz and the Blue Lagoon, where paragliders land, opens up.
All our instructors are professional pilots with over 10 years of tandem flying experience. They are also great psychologists. Even if you feel insecure before the flight, they will competently set you up and convince you that it is not scary at all if you follow simple rules in flight. Before each tandem flight, briefing and weather monitoring is carried out. We fly on clear days, with a wind speed not exceeding 6-8 m / s.
Book your paragliding flight in Turkey without prepayment. We will provide a transfer, the best instructor, photo and video filming. Let your flight be the most exciting, fun and safe.