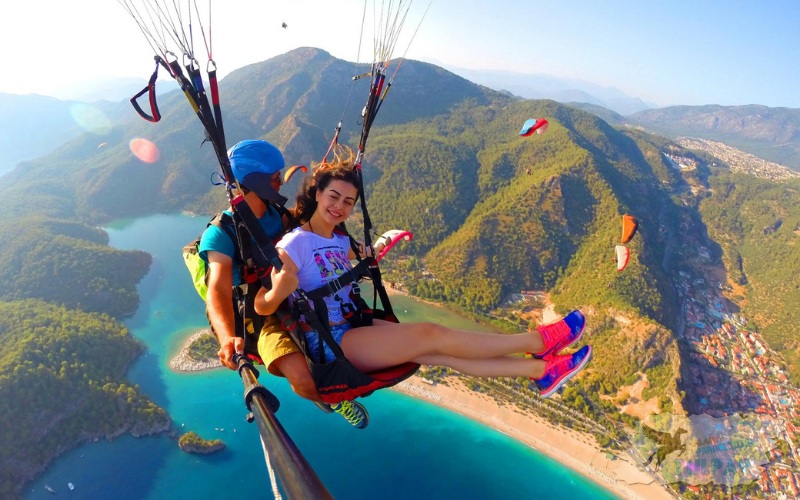 2021-06-23 00:55:12
Tulpar Paragliding
Oludeniz is a picturesque bay located at the foot of Mount Babadag. Tandem flights are carried out from an altitude of 1700 meters. Mount Babadag ranks second in popularity among paragliders in Europe. And this is not surprising, because it has fabulously beautiful, comfortable grounds and good paragliding schools. The location of the mountain, 5 km from the sea, allows you to fully admire the scenery of the coast, mountains and beautiful beaches of the bay.
Paragliding in Turkey in Oludeniz Bay is a must try for every amateur and professional paragliding. Firstly, because such landscapes simply beckon to fly over them. Secondly, paragliders from all over the world gather here for flights, communication and exchange of experience. Thirdly, there are the best instructors who clearly but in an accessible language can convey information about all the nuances. Well, after the flights, you can relax on the most beautiful and cleanest beach in Turkey.
Even if you are not on fire with flights, then you should come here just to immerse yourself in this magical atmosphere. Here, from early morning until late evening, you can watch dozens of multi-colored paragliders, which seem to paint the sky in all the colors of the rainbow. You can climb the mountain on your own on foot, by car, or as part of those who like to fly.
Well, if you are a beginner and really want to try Paragliding over Oludeniz Bay, but cannot decide, then there is a tour Paragliding in Fethiye for you. Here all your doubts will be dispelled by professional instructors who make several tandem flights every day, get real pleasure from this, and pass it on to their passengers. Just try it and you will fall in love with paragliding forever.